Hello! We're not dead or anything. We're just waiting to give you a release date; when we know we won't slip it, we'll call it.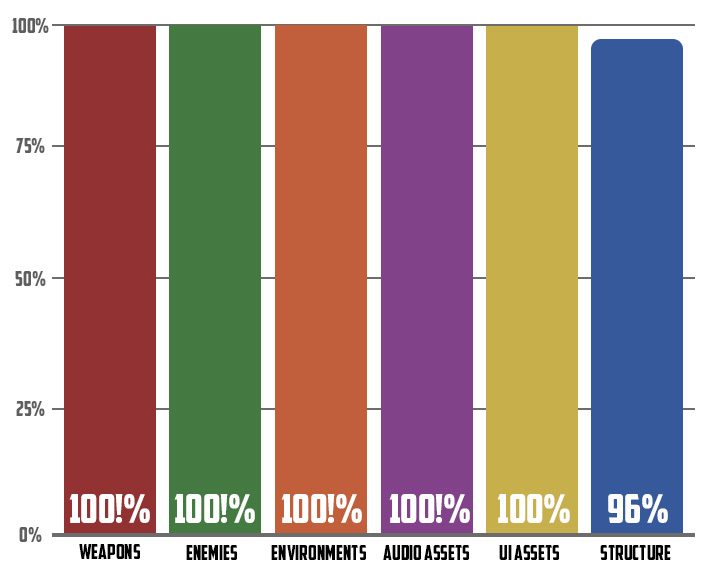 We're about to pull this turkey out of the oven. Might need some garnish, and some time to cool off, hence the remaining 4%. Food metaphors.
Big update! Look at those bars. We are essentially at "soft content complete" over here.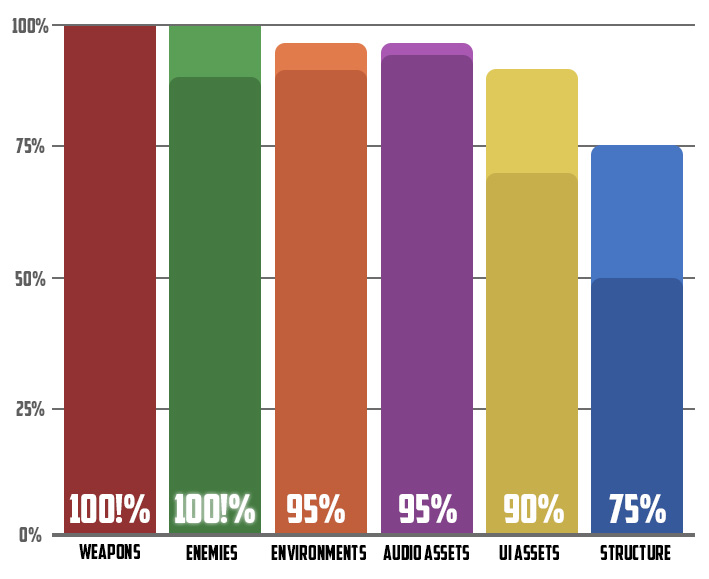 Here's the business!
Hey there killers, we've got a new progress report for you! Take a gander at this noise right here; the dark portions of the bar is where we were at the last report.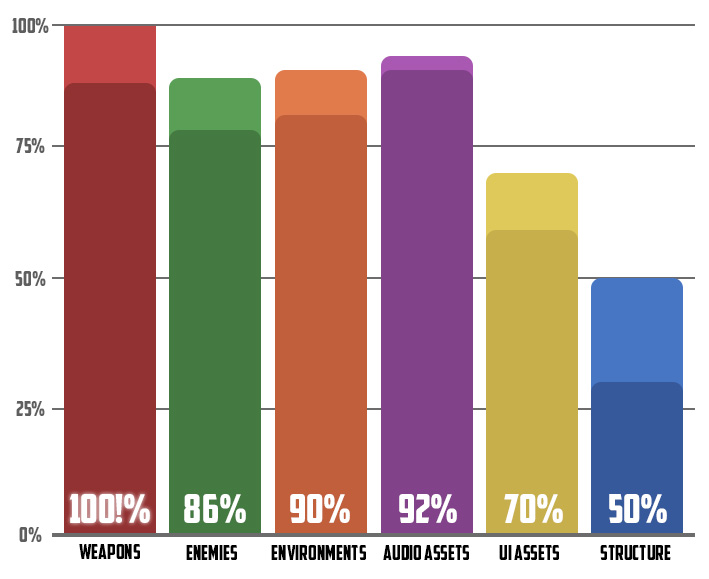 Here's a breakdown of the amazing shit that's been done in the last couple months:
This is normally where I'd apologize for not posting anything for so long. However, I'm not sorry anymore (and I haven't been in a long time) because we're killing ourselves for you. But we wouldn't have it any other way! You're going to LOVE. THIS. GAME. But it still sucks to not know what's going on! As a way of keeping you guys in the know, I'm gonna start dropping progress reports on your desk every 2 to 4 weeks until release.
"BUT WHEN IS RELEASE?"
We don't know yet! We're still just two ambitious idiots trying to release a super technical, highly replayable product. And it's going well! But whenever anyone asks what the release date is and we still don't know, it erodes our living souls a little bit more. So consider these reports a very heartfelt concession. If you wanted to stop asking in return it would help us grow some soul back. Haha!
First official progress report drops right now!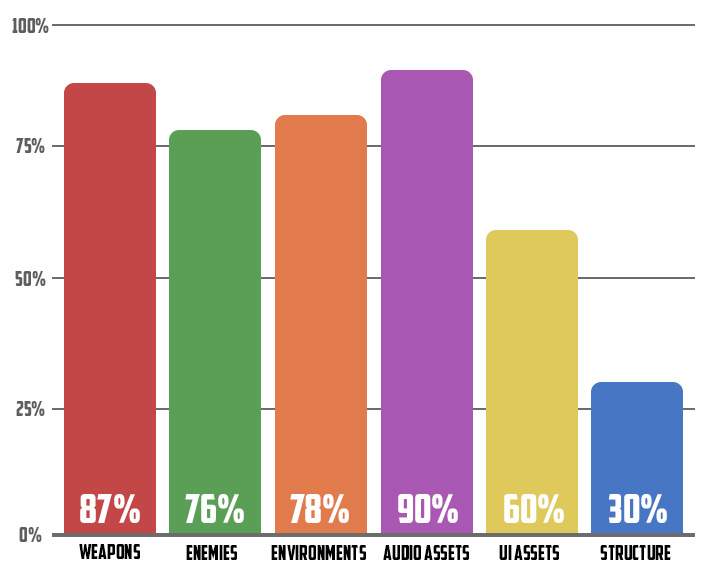 As you can tell, Aztez did not release in 2014, like our promotional material from the last year and a half has been suggesting. We're very sorry! But with just a few moments left in 2014 I wanted to give those of you who have been patiently waiting an explanation on why exactly Aztez has yet to be released.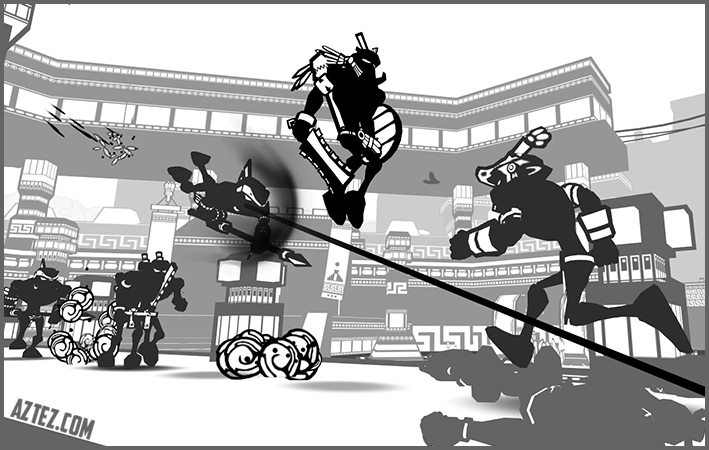 1. We're Just Two Humans!
We have two amazing humans writing jams for us, and we had another amazing human model and texture a -huge- amount of the enemy equipment for us, which saved me an enormous amount of time. But everything else is Matthew and I! That's not a complaint and it's not for sympathy; we like it that way. We're compulsive control freaks. Games like this should have larger teams, but despite this, we're pushing this massive, Indiana Jones-style boulder as fast as we can ourselves. It's getting there! But it's slow.
Ben and I are at the Game Developer's Conference this week (and PAX East is right around the corner).  When we show the game in public, we're frequently asked where we're releasing.  Up until now our answer has always been "PC, and hopefully as many consoles as we can".
We're happy to announce that Aztez is officially coming to PS4, Vita, Xbox One, and Wii U!
Our first release will still be on Steam (PC/Mac/Linux), with consoles releases as soon as possible afterwards.  If we could, we'd love to launch on everything at once, but really there are just the two of us and launching on a console is a ton of work.   We'll have more timeframe details as we get closer to release! In the meantime, enjoy this sweet new combat teaser:
The PlayStation Blog just posted about the new Aztez trailer, and our new combat demo build will be playable on Xbox One hardware at the Unity GDC expo booth. Swing by and say hi if you're in San Francisco!
First of all, the big bad news of the moment is that they have just announced the lineup for the PAX Prime 2013 Indie Megabooth. For those of you not familiar with the Indie Megabooth, it's a MASSIVE collaborative booth space used by indies to get together, share costs, and show off their collective games to the PAX event crowd, i.e. the single biggest gamer convention in the world. It takes place in Seattle at the Washington Convention Center, and anyone that has anything to do with games will be there, along with 70,000 fans.
We wanted to let you know what was happening over at Team Colorblind with Aztez. Right now (and until Dec. 20th) Matthew and I are in Sayulita, Mexico. It's in a beach town on the west coast and it's beautiful. Why are we there? Because as you know, we don't shy away from contract work over here at Colorblind because it means we'll have that much more time/money to make Aztez the best game it can possibly be. But it is also the reason there is occasional deceleration. Not for now! We realized we have an unusual window free of external obligations and decided to go into isolation paradise and really slam the axe down on Aztez. It's very exciting and I just wanted to share it with you. By the time we get back we'll have some very exciting things to show off and I'm squirming over here thinking about it.

This weekend I took a current build of Aztez to the EVO fighting game tournament in Las Vegas, Nevada. For those of you unfamiliar with EVO, it is the world's largest fighting game tournament. Highly skilled players fly in from all over the globe to compete in various one-on-one fighting games like Street Fighter, Marvel Vs. Capcom, Mortal Kombat, and more. But it's also an exhibition of all things of interest to the fighting game community. This year, the event organizers tried something really cool; they set up a showcase of 7 indie games they felt the community would enjoy. Aztez was one of those games and the experience was fascinating. I'd like to share the insights I received by having the game up and running, for anyone to play, from roughly 9am to 5pm, for the first two days of the event.

As you all know, Aztez has been a hobby project for the last couple years; something I've been making for fun and out of a lifelong passion for beat 'em ups. But I have only had the opportunity to work on it for very brief periods at a time, and these periods have occurred only when Matthew and I have had a miraculous overlap of available time and money. But I'm euphorically delighted to announce that we have received the private funding to spend 2012 developing the game! Our patron would like to remain anonymous (so don't ask), but we have cut an incredible deal and it's go-time. So what does this all actually mean?